A Sequence of Operations
New Window × Rogier Arents
In a time where the majority rather chooses for the easy and cheap digital way of working, silk screen workshops are struggling to stay afloat. The One Window #1 project is meant to show the richness and diversity of the silk screen technique by giving three completely different artists a free hand in exploring this beautiful trade. By giving them one restriction – the use of only one silk screen – the participants are challenged to develop a new outlook on this traditional technique, resulting in new possibilities for its application.
Three artists will separately develop new works, all starting with the same tool; one screen printing frame, measuring 140×100cm.
Participants: Rogier Arents, Aliki van der Kruijs and Sacha van den Haak & Felix van Dam
Sponsored by Hurtz and Publivenor.

The project still needs a title and a coding system to keep an order within such an amount of prints.
Read more »

I am happy to say that the prints are fulfilling my aspirations as a collection of 50, a compositional series of 5, and as individual prints.
Read more »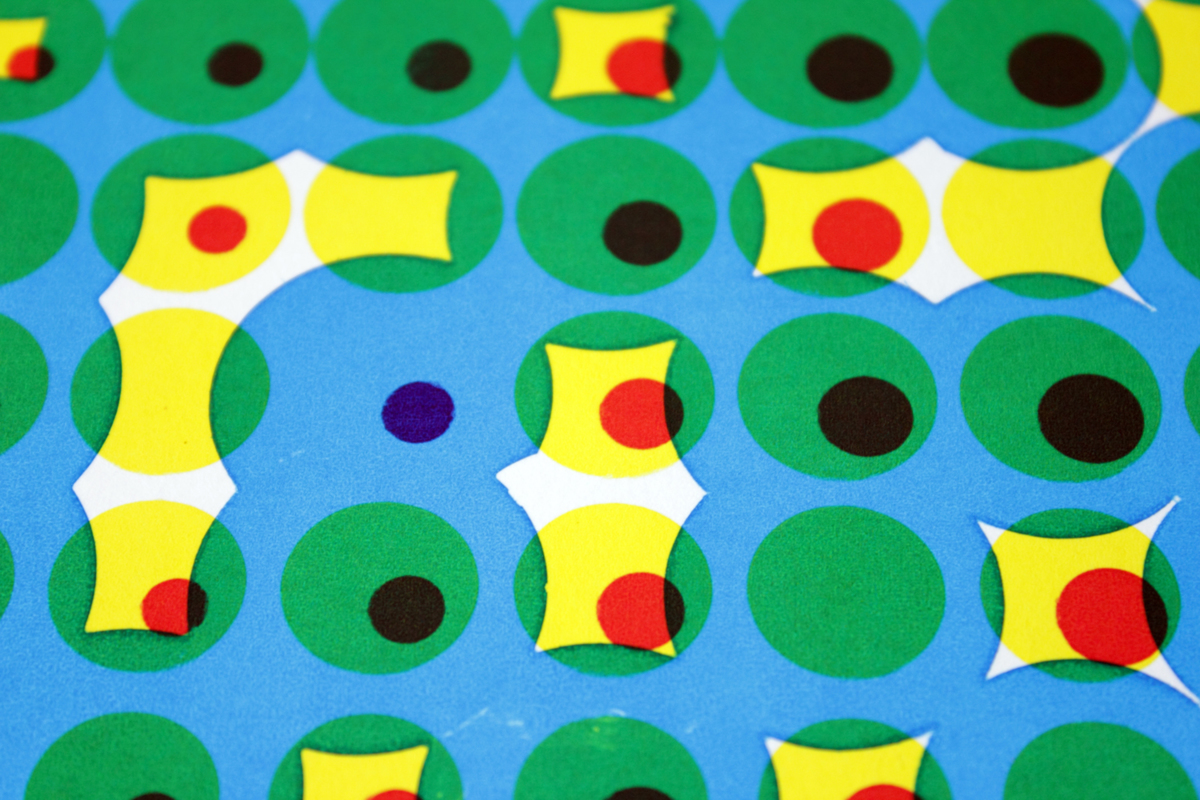 The printing is done and the ink is dry, it's time to enjoy! 
Read more »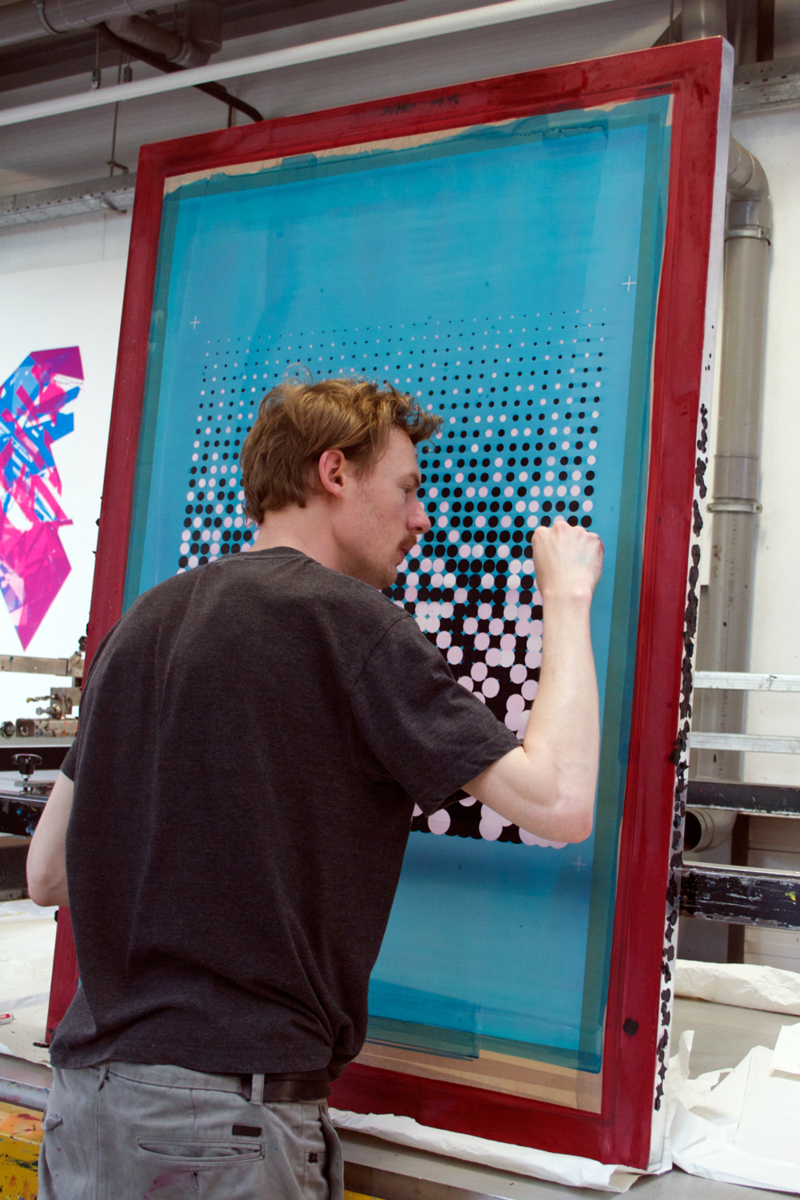 A photo documentation of the silkscreen process.
Read more »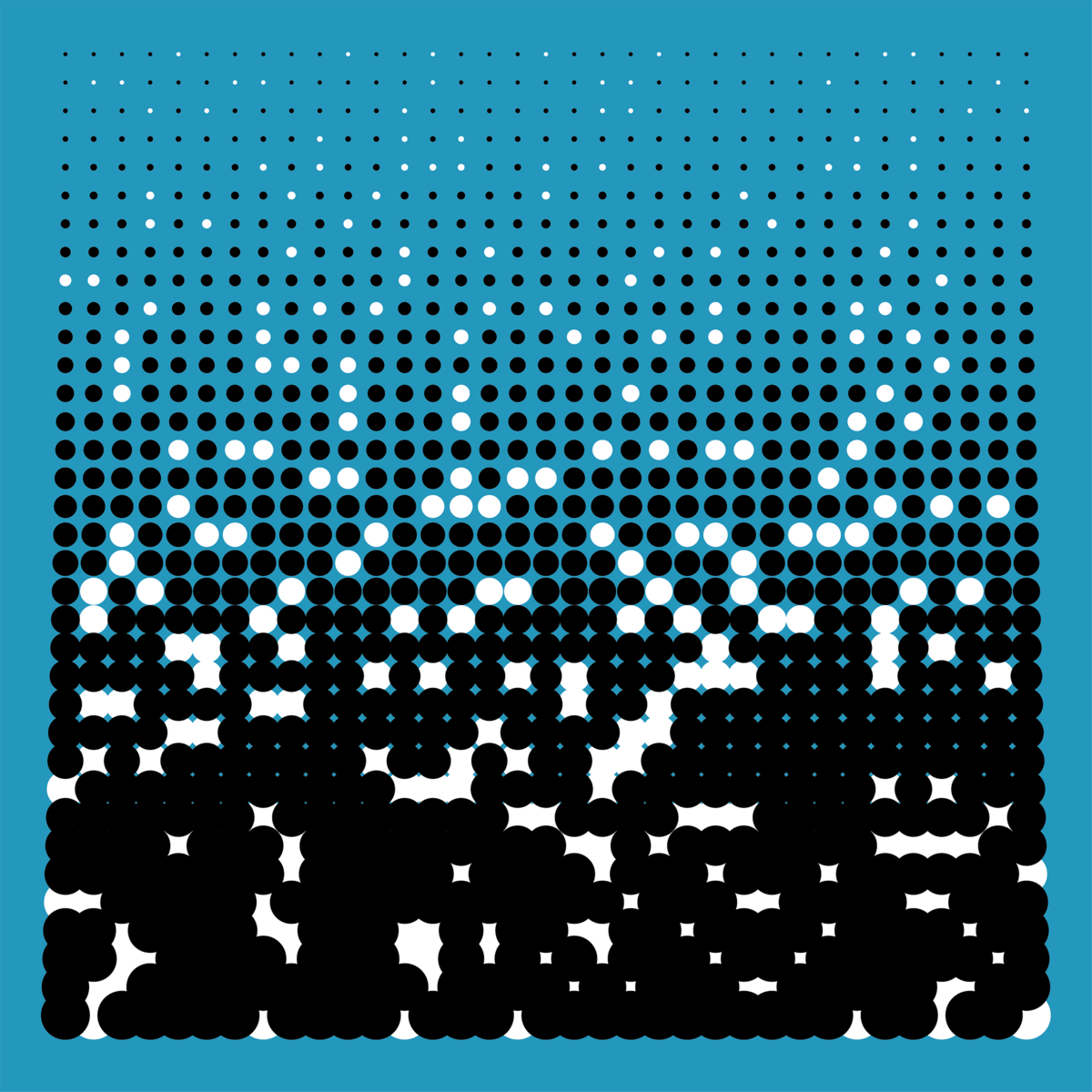 My final composition and working structure is inspired by close-ups of previous made gradient prints and computer generated images using algorithms. It's time to start printing!
Read more »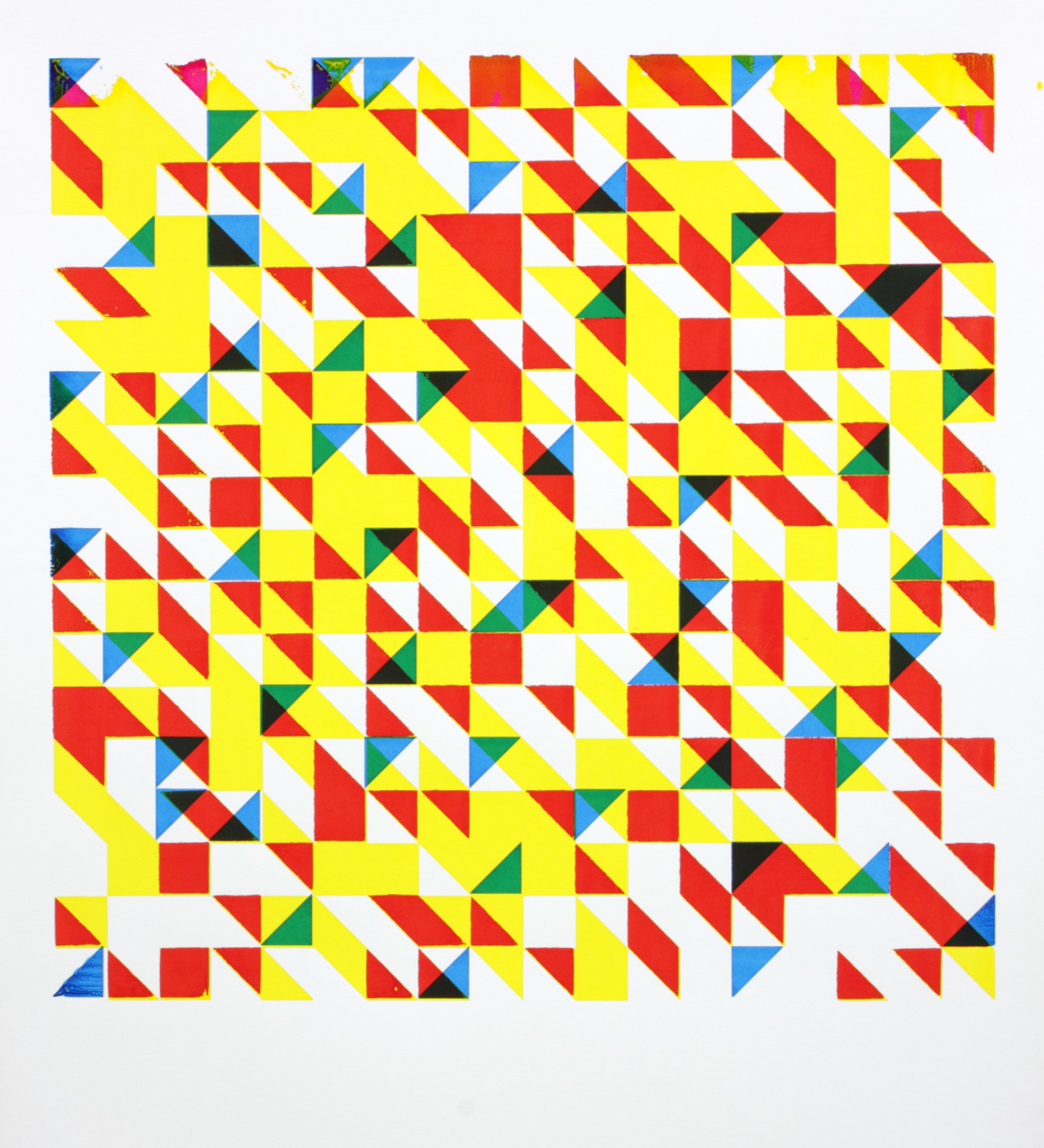 For the final series I am searching for a composition which is a combination of a systematic printing process and a gradient layer which adds contrast, weight and movement.
Read more »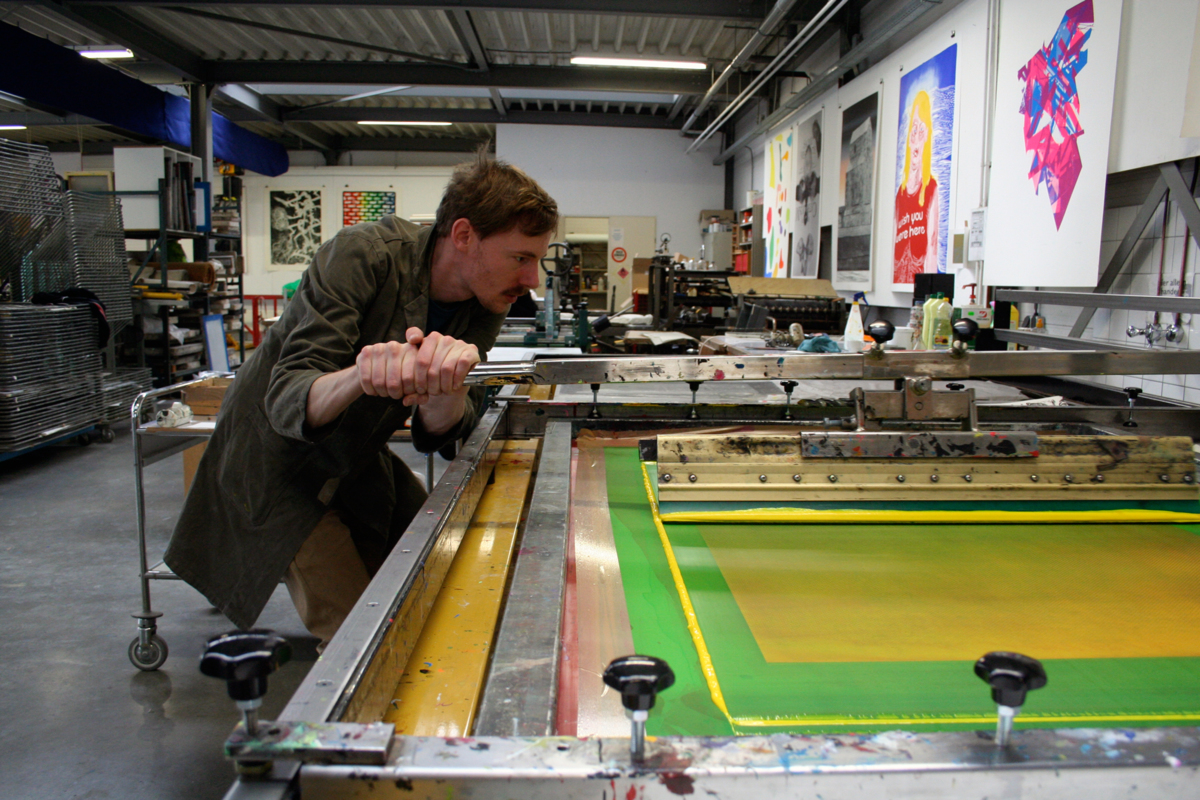 Now I want to experiment with layers to build compositions. To create more contrast, weight and movement I've decided to add a raster-gradient layer. To test the new layer I've created a series of prints using the color system CMYK. Every print in the series contains a unique combination of colors.
Read more »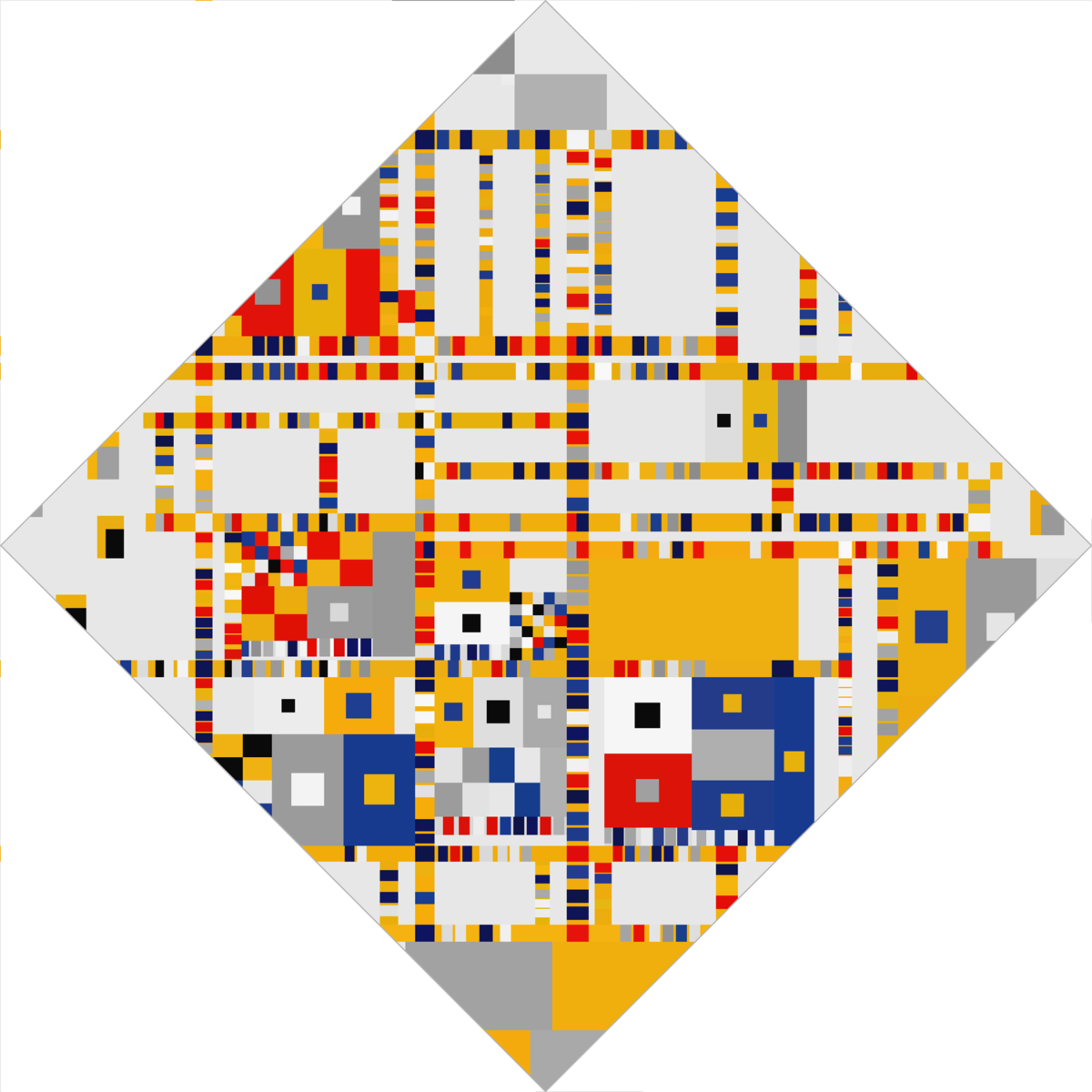 I was impressed by Professor Loe Feijs' thorough analysis on Piet Mondriaan's work and his translation into algorithms which recreates 'Victory Boogie Woogie'. It inspires me to add more graphic layers into my series of prints, so it will become more complex and in this way more playful.
Read more »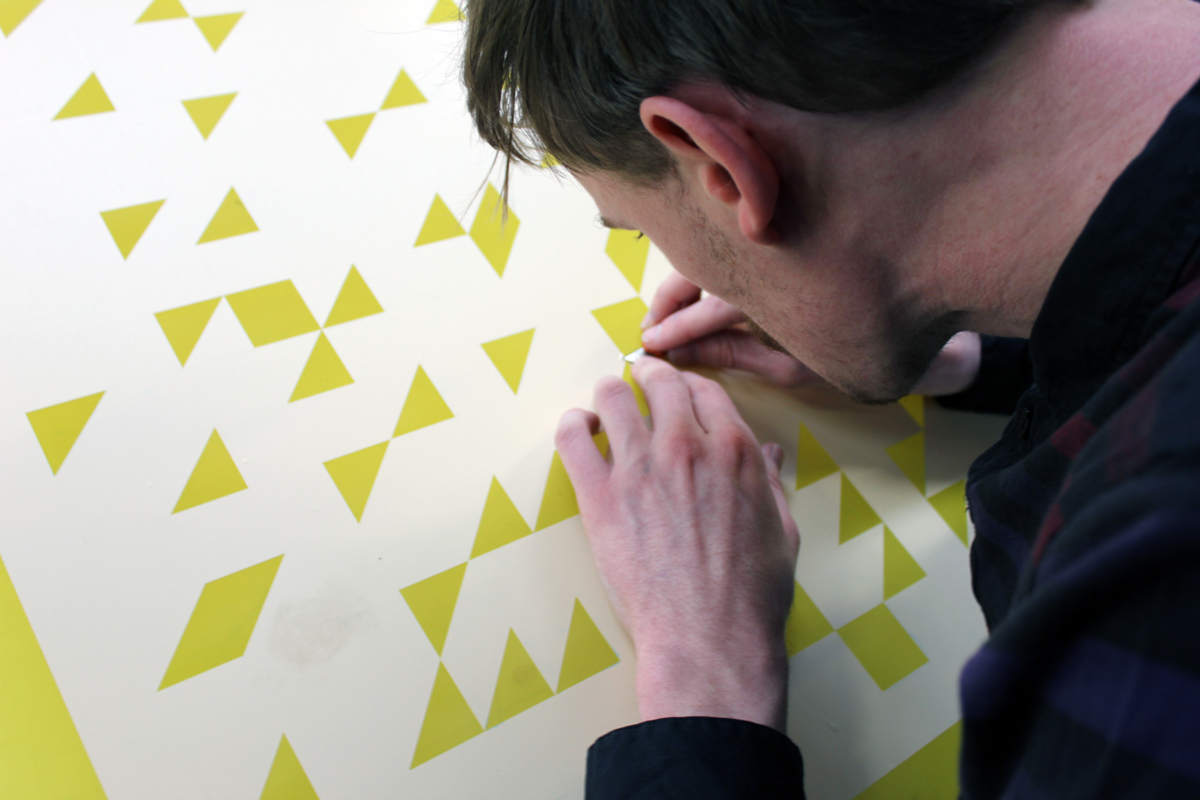 The strict guidelines of 'One Window' made me curious to find a technique to create a series of prints of which every print is unique, but still only use one frame. I tried to perceive the screen printing process as a computer program: a formula with variables, an input and an output.
Read more »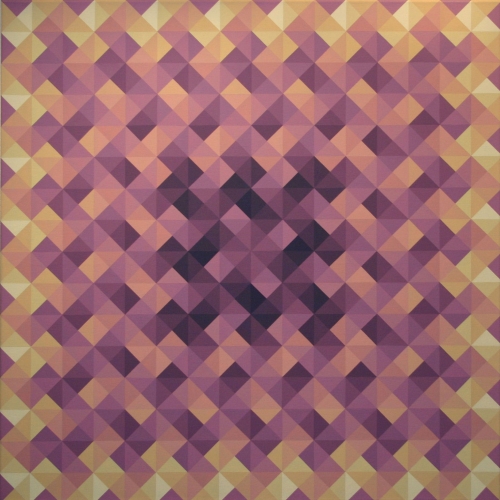 At a lecture day of Ars et Mathesis I was most impressed by the presentation of painter Ger de Joode. I was fascinated by his mathematical approach to build up a painting. It seemed like he was programming his paintings, like how a computer programmer would make an artwork.
Read more »
I was curious to see a direct translation of my pen plot drawings into a screen print. I wanted to see whether the transformation in medium has effect on the expression of the lines and whether the result becomes more rich than the original drawing.
Read more »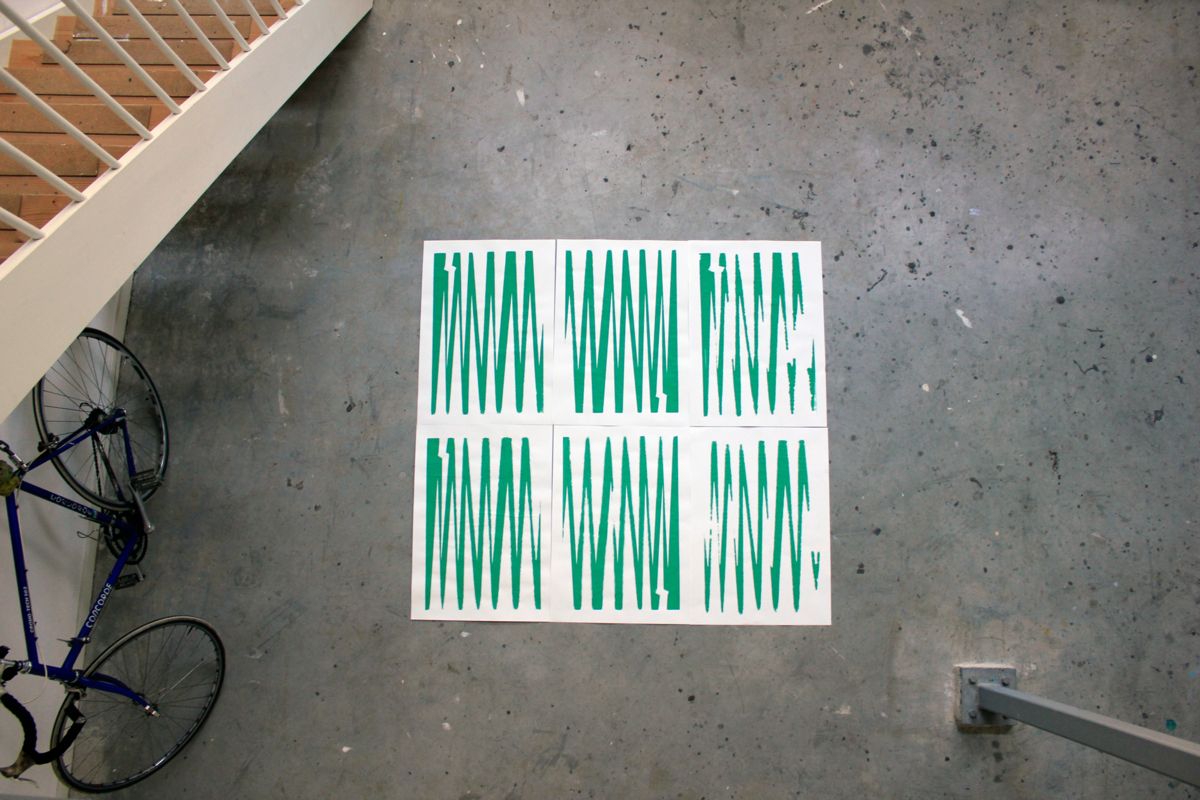 For I don't have much experience with screen printing yet, the residency at Daglicht and 'One Window #1' are good reasons for me to start experimenting with the technique.
Read more »
The week I started working in an empty studio for my artist-in-residence period at Grafisch Atelier Daglicht, Woes brought me an empty silkscreen frame. A new window to be filled. With no experience in silkscreen printing and a blank mind I wandered around in the studio, with the frame in my hand, looking for perspectives and compositions to fill the frame.
I decided to start to work from a graphic technique I am familiar to work with, the pen plotter. I am curious to see what results will bring a combination of the digital plot technique and the analogue silkscreen technique.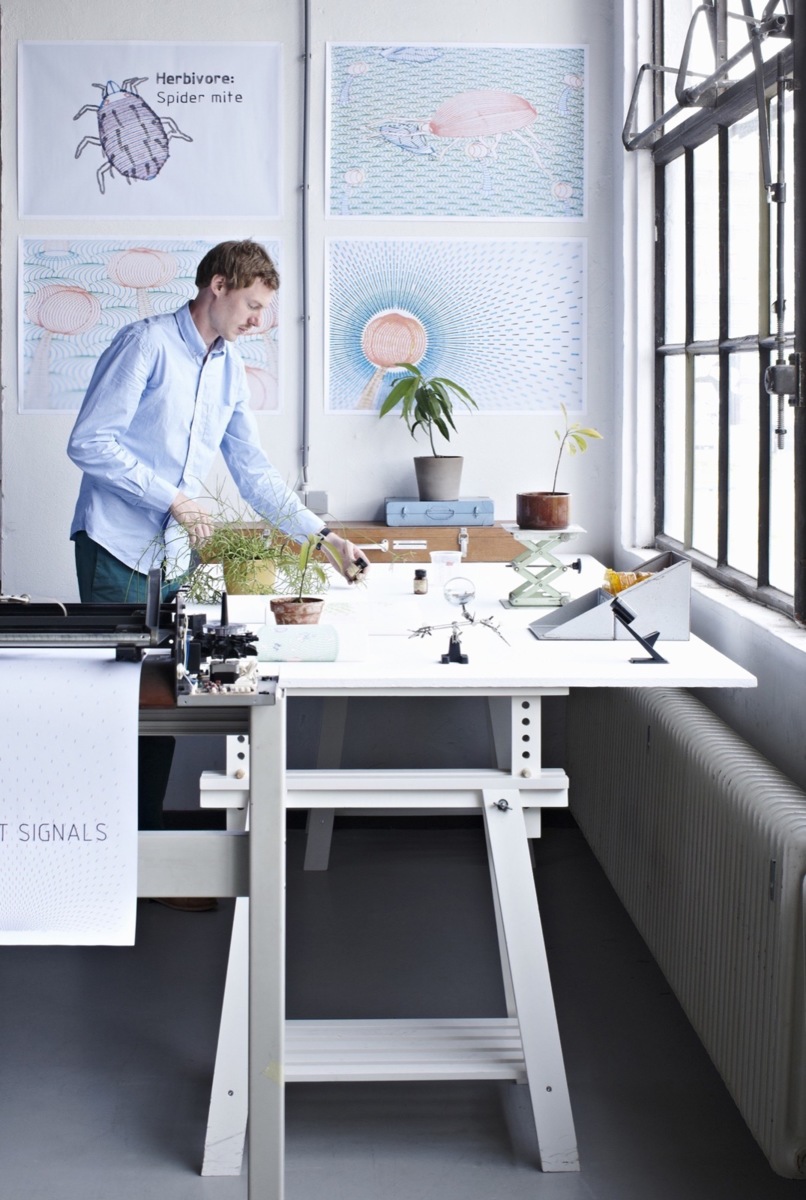 Rogier Arents is a designer who is active on the borders of design and science. Science inspires him to make drawings, films, installations and products. The basis of Rogiers work is graphic design wherein he explores the borders of analog and digital. In 2012 he graduated in department Well-being at the Design Academy in Eindhoven. With his strength as a designer to speak the visual language he aims to support scientists communicating their knowledge to the public.